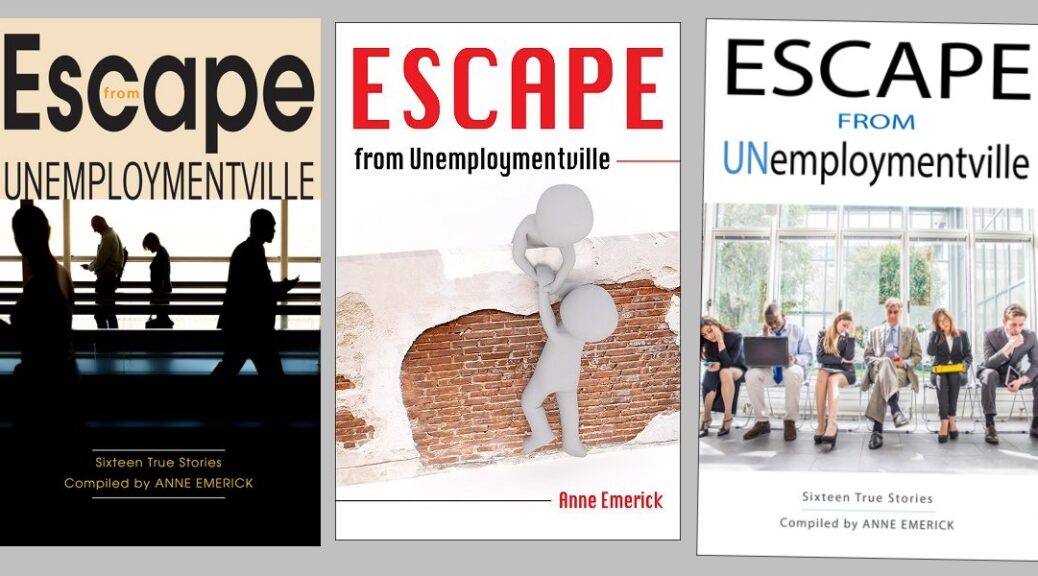 On Why I Wrote This Book – Escape from Unemploymentville – Cover
On Why I Wrote This Book – Escape from Unemploymentville – Cover
On Why I Wrote this Book
I recently had a horrible, awful stay in Unemploymentville and I wanted to make the place a bit better for the next person passing thru. Unemploymentville can be incredibly lonely despite millions of people living there. By sharing our experiences we receive the comfort of thinking, "Oh, you too? I'm not the only one."
An outsider with no extended stays in Unemploymentville might ask, "How could you possibly feel alone in any aspect of unemployment? Millions are unemployed each year. They say you should expect one month of job search time for each $10,000 you want to earn. That's just the way it is."
And, there it is – the message that: This is life. Life isn't fair and maybe you ought to buck up and stop whining.
I am not a whiner. I am not a quitter. But I experienced more moments of utter defeat and wanting to give up, in nine months of unemployment than the rest of my life combined. And perhaps that statement makes someone say, "Oh, you too? I thought I was the only one."
The fact that so many of my friends and family DON'T get why I want to write this book, is ironically proof that I need to write it.
Because if most of my super-supportive friends and family don't get it, then lots of other family and friends circles of unemployed people aren't getting it either — which means many people are not feeling understood.
Escape from Unemploymentville contains not just my story, but those of other men and women, young and old, black and white, who held many different jobs and arrived in Unemploymentville from many different paths. I hope that their stories help others to feel less alone and to see that while many of us pass through Unemploymentville, none of us are permanent residents. There are no permanent residents of Unemploymentville. Remember that. It's a place, a space, that people pass through.
Now… We'd like your input!
People can and do judge a book by it's cover. So please tell us which cover you like best. Choose one of the options below. Please scroll, so you can see all three choices! And then scroll, scroll a bit more till you see the DONE button. Please click. THANKS!!
Related Posts:
WORST advice on Job Loss or Job Hunting?