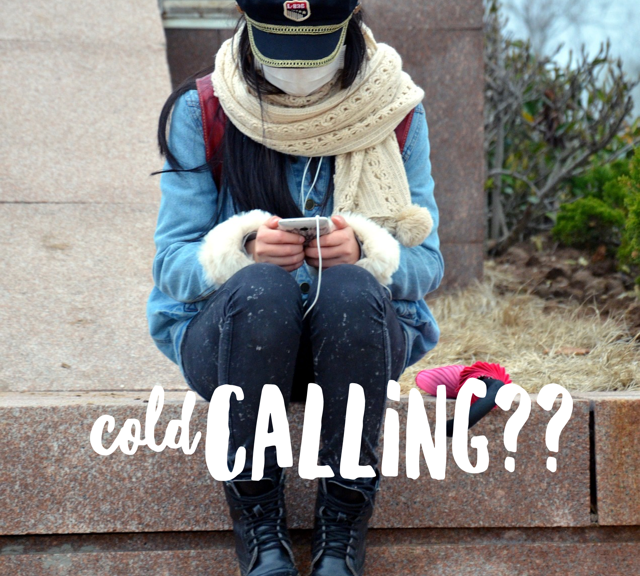 Hate Cold Calling? What You Might Be Missing
Hate Cold Calling? What You Might Be Missing
A doctor's note ended my career as a professional guitarist and informed me that I could lift nothing heavier than a bottle of milk. The same month, a note from my father cut me off from his medical aid and left me and my family hanging in the balance. Now what the hell were we supposed to do?
"Write again." was my wife's answer. It had been at least five years since I'd last picked up a pen and most of my publishing contacts had died, quit or moved to new directions entirely.
Next option? Cold calling.
Definition: Cold calling: E-mailing, calling, or showing up without an appointment.
"Best (name of editor), I'm a freelance journalist who would like to write for you." I'll  bet we sent out thousands of those just in that first month of frantic idea-pitching. The more we sent out, the more we could see hits on the website going up. On my wife's advice, I sent out some free guest posts to blogs, too; these were published and built a good portfolio with my writing credits (under pseudonyms!) from years back.My wife's marketing experience came in handy, and we got to work with an entirely new image and re-designed website. Phase one was research, and we'd made a list of almost every publication we could find. Then, we started e-mailing each and every one on the list, whether or not either of us knew the editor from prior writing.
Of course there were rejections. Plenty. "This isn't right for us,", "We only use staff writers," and "We'll keep your name on the books" were the top three. I learned to see even the rejections as a good thing – a great thing – early on. Why? It still built contacts – rock solid ones I still have and treasure today. The editors who said it's not right for them were happy to consider other ideas because we'd established an open line of communication with a rejection letter that said, "Try again."
We kept at it. Eventually, we got our first positive response. "We're interested in purchasing your article on Endometriosis. Find attached deadline and publication dates. I handle all freelance pieces. For which other publications do you write and which topics do you cover?"
Damn. We did it.
The end result was published in March, and I still carry an original copy: Our rent was paid, the editor immediately ordered a second article and the rest of the publications started to get back – yes, some of them had originally said, "This isn't right for us," at first.
Cold calling is something I still use on an almost daily-basis to introduce myself to new editors and build contacts. The really good news? Cold calling can work for any career.
Here's what it taught me…
Cold calling is a way of introducing yourself to the right people. Learn their names and what you can about their business before you call. YOU should not be going into it cold. You have to brief and to the point, but professional and friendly at the same time.
You have to convince someone you've never met that you can do the job they need – and they might not even know that they need it. Practice this with yourself, your friends or your partner before the actual cold call: Can you sell ice to an Eskimo?
Keep at it: Some days will feel absolutely hopeless and some rejections do sting like a mother. You can't let it get to you – not now, not in ten years.
Eventually you'll strike gold: You'll speak to the right person at the right time. That's what cold calling is about.
Alex J. Coyne is a freelance journalist and author who has written for publications including Great Bridge Links, People Magazine, The Dollar Stretcher and, of course, Unemploymentville.
Admin Annie's 2 cents
In creating Unemploymentville and writing about being out of work I had my own experience of contacting people who didn't know me (cold calling) and being ignored, which is really a form of rejection. One morning I had set a goal of contacting 10 people and shared that goal with an accountability partner.  I had only gotten 6 done and was about to stop there, but I decided that darn it, I would get 10 in.  I hurriedly sent off 4 more posts, one of which was posting on Carol Tice's website for writers.  That one post of mine got a huge number of replies and suddenly I felt momentum.  So I definitely agree that you have to just keep going and give yourself as many chances as you can find time to explore.
I also have found it better to rethink my own attitude about rejection.  First I now think of rejection as the way I go clothes shopping.  I walk in the store and walk around and most times I say, 'not for me, not what I'm looking for today, etc' – one could argue I am rejecting all those clothes.  When I consider all the beautiful clothes I turn down, I don't feel badly when I make an offer and it is turned down.
Finally, I highly recommend Rejection Proof, How I Beat Fear and Became Invincible, One Rejection at a Time by Jia Jiang.